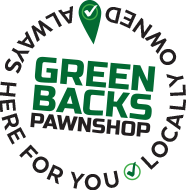 WHY PAY MORE AT SPECIALTY STORE, GREENBACKS HAS IT ALL
At Greenbacks Pawnshop, we pride ourselves on providing our customers with a wide variety of top quality, brand name products, and services at unbeatable prices. We buy, sell, and trade jewellery, laptops, tools, video games, video game consoles, cell phones, sporting goods, musical instruments, electronics, movies, and so much more. Meet our knowledgeable Greenbacks' team who provide expertise in gold, pawn loans, buying, selling, and tech device repair. Visit Greenbacks Pawnshop, and find something new everyday!
Everything is tested and inspected, and backed with our 30-day warranty
STORE UPDATE
Greenbacks Pawnshop is open 7 days a week in Belleville and Cobourg while maintaining the health and safety of you and our employees. We are asking that you please remain at home if you are in quarantine, awaiting COVID-19 test results, or unwell in any way. Please refer to this self-assessment if you are unsure. Our Greenbacks associates and technicians are here to assist you with all your buying, selling, pawning, and tech repairing needs. If you need assistance or have any questions, please contact us by email, website, phone, or Facebook messenger. Find out more about our services, health guidelines, and ways to contact us on our promotions page. We want to assist you in any way we can. Thank you for supporting our community and local businesses. We couldn't do it without you!
Career Opportunities
Come on board and join us! We have a growing number of store locations in south eastern Ontario. We are always looking for motivated, friendly staff with a learning aptitude.
LOCATIONS
Belleville – Greenbacks Pawnshop
170 North Front St, Belleville Ontario
613•966•2200

| | |
| --- | --- |
| Monday | 10:00 AM - 9:00 PM |
| Tuesday | 10:00 AM - 9:00 PM |
| Wednesday | 10:00 AM - 9:00 PM |
| Thursday | 10:00 AM - 9:00 PM |
| Friday | 10:00 AM - 9:00 PM |
| Saturday | 10:00 AM - 5:00 PM |
| Sunday | 11:00 AM - 5:00 PM |
Cobourg – Greenbacks Pawnshop
41 King St E, Cobourg Ontario
905•377•9700

| | |
| --- | --- |
| Monday | 10:00 AM - 6:00 PM |
| Tuesday | 10:00 AM - 6:00 PM |
| Wednesday | 10:00 AM - 6:00 PM |
| Thursday | 10:00 AM - 6:00 PM |
| Friday | 10:00 AM - 6:00 PM |
| Saturday | 10:00 AM - 5:00 PM |
| Sunday | 11:00 AM - 5:00 PM |