Gold & Silver
Walk in with GOLD. Walk out with TOP CASH.
It's that EASY.
Greenbacks Pawnshop makes it easy for you to be confident that you are getting TOP CASH for your gold, silver, jewellery and more! When bringing in your item(s) you will be greeted with a friendly, professional retail store environment. You will have a free one-on-one consultation with a Greenbacks gold buying expert. They will evaluate your item(s), and offer a price based on that evaluation. If you are bringing in large quantities you can make an appointment to ensure ample time for your items to be evaluated. Email [email protected] or click here to reach a Greenbacks' gold buying professional today!
At Greenbacks Pawnshop, gold buying is
• hassle-free,
• stress-free, and
• instant.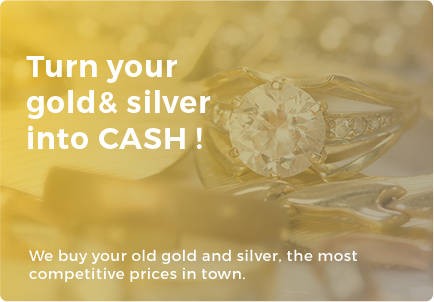 White, Yellow, and Rose Gold





Solid Sterling Silverware


Come in today for a FREE EVALUATION on all your old, new, mismatched, and broken gold and silver.